(January 9, 2019 – Toronto, ON) –
Cancer Bats
are charging into the new year with a brand-new track titled
"Inside Out".
Recorded during the same sessions that made their critically-acclaimed sixth studio album
The Spark That Moves
, the band opted to hold this song back, knowing its strength and unique presence could hold its own as a standalone release. Frontman Liam Cormier had this to say about the B-side,
"Inside Out is such a gnarly beast of a song, that we all knew it would make for a rad track to release later and keep the vibe of The Spark That Moves going!" 
Listen to "Inside Out" on your preferred streaming service or pre-order the 7″ 
HERE
Cancer Bats have also continued their all-encompassing campaign strategy by releasing a 12th music video for the new single. Filmed by close friend and videographer Sid Tang, the video for "Inside Out" is made up of footage taken from shows played throughout the world. Capturing the exciting, chaotic and energized Cancer Bats live show, from sweaty packed clubs to festival stages in China, to their triumphant return to Canada playing some of their largest crowds to date, this visual document offers new and old fans a taste of what's to come when witnessing a Bats show as they continue to blast across stages around the globe.
Alongside the release of "Inside Out", Cancer Bats have also announced an East Coast Canadian Tour for April 2019. The tour will kick off on April 18th in Windsor, ON and will wrap up in Halifax on April 27th at The Seahorse. Joining Cancer Bats on tour will be Vancouver's Dead Quiet, as well as Moncton's Diner Drugs, London's Heart Attack Kids and Fredericton's Deep Fryer, on select dates. Tickets for the tour will go on sale this Friday, January 11, 2019. For a complete list of dates, please see below.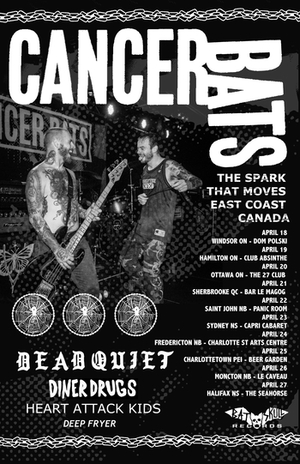 ***JUST ANNOUNCED – CANCER BATS EAST COAST TOUR
04.18.19 – Windsor, ON @ Dom Polski +
04.19.19 – Hamilton, ON @ Club Absinthe +
04.20.19 – Ottawa, ON @ 27 Club
04.21.19 – Sherbrooke, QC @ Bar Le Magog
04.22.19 – Saint John, NB @ The Panic Room *=
04.23.19 – Sydney, NS @ Capri Cabaret *=
04.24.19 – Fredericton, NB @ Charlotte St Art Centre *=
04.25.19 – Charlottetown, PEI @ Beer Garden *
04.26.19 – Moncton, NB @ Le Caveau *=
04.27.19 – Halifax, NS @ The Seahorse *=
Choosing to forgo the traditional lead ups and teaser singles, Cancer Bats, with no forewarning, released their latest studio album
The Spark That Moves
in its entirety on April 20, 2018. A critic and fan favourite, the album hit #4 on the iTunes Rock chart, has been featured on numerous
Best of 2018
lists and has been streamed over 1.5 million times on Spotify. The album is available through the band's own record label
Bat Skull Records
in partnership with
New Damage Records
in Canada and the US. Purchase or stream the album
HERE
.
The Spark That Moves follows the bands critically successful album Searching for Zero (2015), which landed Cancer Bats their fourth Juno Award nomination for Metal/Hard Music Album. Recorded in Winnipeg, MB, under the watchful eyes and ears of JP Peters (Propagandhi) at his studio Private Ear and mixed by long-time collaborator and award-winning producer Eric Ratz, (producer of Hail Destroyer, Bears Mayors Scraps & Bones and Dead Set On Living), The Spark That Moves is Cancer Bats at its finest. Combining all of the elements from their last 5 releases, the 11 tracks that make up the album blend together the bands most melodic moments with their most aggressive, becoming a savage sprint of hardcore, punk, sludge, and metal that leaves the listener craving more. Drummer Mike Peters and lead bass player Jaye Schwarzer seamlessly collide together like two wild beasts, while guitarist Scott Middleton blasts his signature layers of squeals and destruction over top. All of this thunderously led by singer Liam Cormier's now fully formed melodic growl as he fires both positive, inspiring lyrics and scorching damnation as displayed on album opener "Gate Keeper".  Without skipping a beat, they fire on track 2, "Brightest Days", shifting back to a classic Bats positive party anthem. The record seamlessly keeps this pace of raw, catchy, anthemic, metal and punk. Halfway through it breathes with the melodic standout "Bed Of Nails", a touch of desert rock they add into the mix before diving back into the chaos that is "Head Wound". This pace continues right until the crushing album closer "Winterpeg", an ode to the very city they recorded in, featuring guest vocals from Chris Hannah of the legendary Winnipeg punk band, Propagandhi.